The Bathroom is a room in most family igloos. If the family is rich, they might have several bathrooms. if however, the family is poor, they might have an outhouse. An average bathroom might contain:
A potty
A shower
A bath
A sink
A cupboard
A mirror
A vanity
A large plant
Pookies usually take their own showers/baths. When using the toilet, pookies usually use the fart emote. ( E+T)
Trivia
Toilets are usually a chair with a fishing hole or a water dish on top of it.
If you don't have a fishing hole or water dish, you can use a blue puffle bed.
Showers are usually fire hydrants blocked by snow walls, or fire hydrants covered by a telephone box.
Club Penguin did not add many bathroom items.
See also: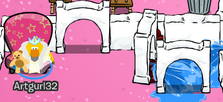 Ad blocker interference detected!
Wikia is a free-to-use site that makes money from advertising. We have a modified experience for viewers using ad blockers

Wikia is not accessible if you've made further modifications. Remove the custom ad blocker rule(s) and the page will load as expected.