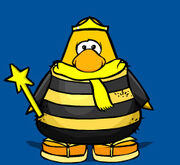 Bee costume

Common on Pookie's rating

3/10

Range of patterns/colors?

No, the yellow and black one is the only pattern.

Member item?

No

Unlockable?

Yes
The Bee Costume is a body item sometimes worn by Pookies. It was first available during Norman Swarm Has Been Transformed, and you could unlock it in the Series 3 Treasure Book. If you bought the penguin toy wearing a bumblebee suit, you could have got it with the code that came with the toy.
It is currently common, due to it being released again.
Trivia
The bee antennae, (the head item to this costume) is more commonly seen then the costume itself.
It is often worn by newborn pookies.
In a pookie contest it is good for the themes; bug, costume, cute and yellow/black.
It is commonly found as a member item from the costume trunk.
It goes with the Bee Antennae.
Ad blocker interference detected!
Wikia is a free-to-use site that makes money from advertising. We have a modified experience for viewers using ad blockers

Wikia is not accessible if you've made further modifications. Remove the custom ad blocker rule(s) and the page will load as expected.