Bunny Slippers

The Green Bunny Slippers

Common on Pookies rating

9/10

Range of patterns/colors?

Pink, Gold and Green

Member item?

No

Unlockable?

Yes
The Bunny Slippers are a very common item seen on pookies. Many pookies own this item. Some pookies that don't have this item use the Ballerina Slippers because they are identical to the pink slippers on the penguin unless one is sitting sideways. Bunny slippers come in the colors gold, green, and pink, but pink the most common. Gold is also common but not as common as pink.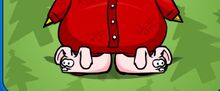 Ad blocker interference detected!
Wikia is a free-to-use site that makes money from advertising. We have a modified experience for viewers using ad blockers

Wikia is not accessible if you've made further modifications. Remove the custom ad blocker rule(s) and the page will load as expected.