CPPSes are fake Club Penguin servers that allow users premium privileges, such as swearing, name glow, and obtaining items for free. There are a lot of pookies on there, but most of the penguins on there are a few years older than the expected age of players on regular Club Penguin.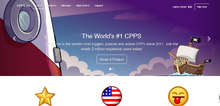 CPPS.me
CPPS.me is the most popular CPPS servers that pookies go on. It has the old Club Penguin theme and is absolutely free. It is one of the most common CPPSes, not just for pookies, but penguins in general.
Features include:
The original interface and town, with older CP items available.
Free Membership.
The ability to obtain anything for free with commands (items, coins, furniture, etc).
Swearing servers, and swear-proof servers.
Unlimited igloo editing.
A extra site called http://i.cppshq.com where users can copy and paste the commands into the speech bar to get items.
Many people use this CPPS to roleplay as a pookie or mumu. The unlimited items and old items such as the Stuffed Bunny are available at any time, so many pookie fans use this server as an alternative to the Club Penguin website.
It requires signing up, then you can play for free! Some features, such as Name Glow, cost real money however.
There are commands to add coins and other things.
Trivia
Oasis.ps is another popular Club Penguin Private Server, however, few pookies go on there.
Mirai is also another popular CPPS.
Some penguins use Club Penguin Private Servers to obtain items for free. However, almost all safe CPPSes require signing up, and therefore you can not use your Club Penguin account.
Ad blocker interference detected!
Wikia is a free-to-use site that makes money from advertising. We have a modified experience for viewers using ad blockers

Wikia is not accessible if you've made further modifications. Remove the custom ad blocker rule(s) and the page will load as expected.