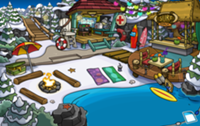 The Cove is a room on Club Penguin where many families go to swim, camp, or even go on vacation.
Appearance
The cove is quiete a large place. There is a staircase from the Forest that leads here. To the left it has a snack bar for snacks and drinks. Nearby the stairs is a first aid room for if your pookie gets hurt (which is very common among divas and MELDS). It also has beach towels laid on the sand, and a campfire, where the family can relax. Finally, there is an area of water for swimming.
Usage
Pookie Scouts often come to the Cove a lot. Pookie Scouts plan many activities at the Cove, and may have a meal at the snack bar when they are finished. Some troops even plan an over-nighter on the beach, where pookies bring their sleeping bags and sleep under the stars.
Many fam fams also enjoy going to the cove for activities. Swimming is a common place along with camping. However, many families run the risk of their pookies getting injured due to the fire causing them to get burned since most use the camp fire for camping. Many Divas and above will do this to get attention.
It should also be noted many other penguins besides pookies will use this cove for many other reasons.
Trivia
Mermaids can sometimes be found in the water area and in the rocks.
Fam Fams almost always use this area for swimming, however it is not a guarantee they will use this.