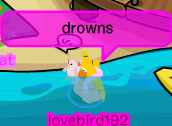 Caring for a
pookie
is fun, but it's not all fun and games. A pookie or other
family
member may
die
. Once your pookie is dead, it can/cannot be revived.
Reasons a pookie might die
Your pookie got severely injured.
Your pookie became very sick.
You forgot to feed your pookie or give it water.
It drowned
It fell down 
It was smothered, bludgeoned, shot or stabbed
It doesn't feel loved (suicide).
Randomly, for drama.
Ways to prevent a pookie from dying
WARNING: These do not always work.