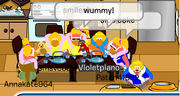 Dinner
, or din din is the meal that is eaten in the evening for
pookies
. There are usually a few courses during dinner like the appetizer/starter, the main course, the side dishes, and
dessert
.
Appetizer
Salad
Fruit Salad
Soup
Cheese fondue
Crab cocktail
Nachos
Cheezy rolls
Crunchy Dippers (Crunchy items like Pieces of Baguette and Vegetables served with a few dips)
Mozzarella Sticks
Garlic Knots
Chips and salsa/guacamole
Sushi
Cheese bread with dipping sauce
Main Course
The main course is the main type of food your fam fam will eat for dinner. Many Fam Fams have a big main course. These are some of the items they might have.
Pasta with cheese
Mac and cheese
Elmo pasta
Elmo mac and cheese
Lasanga
Ravioli
Pasta with tomato sauce
Spaghetti with meatballs
Mullet
Cheese pizza
Pepperoni pizza
Vegetable pizza
Chicken pizza
Elmo pizza
Turkey
Chicken
Beef
Cornish Game Hen
Corn beef
Ham
Pork ribs
Beef ribs
Lamb chops
Lamb
Gyros
Pot Roast
Chicken Pot Pie
Sheprerds Pie
Meat or chicken pie
Tacos
Burritos
Fajitas
Tamales
Chimichangas (fried burritos)
Enchilladas
Shrimp
Clams
Clam chowder
Calamari
Cracked Crab
Cod
Salmon
Dover Sole
Fish and chips
Hot dogs
Hamburgers
Grilled chicken
Fried chicken
Popcorn chicken
Caviar
Side dishes
Side dishes are the foods you eat on the side of the main course. Some side dishes your fam fam might make are: 
Baked potatoes
Cheese quesadilla
Chicken quesadilla
Mashed potatoes
Roasted potatoes
Rice
Rice Pilau
Steamed veggies
Steamed rice
French fries
Fried rice
Soup
Garlic bread
Canned or baked beans
Salad 
Corn on the cob 
French or sweet potato fries
Chicken with dip
Assorted fruits
Drinks
Milk
Chocolate milk
Water
Juice (orange, apple, etc)
Soda (coca cola, pepsi, fanta, 7up etc)
Lemonade
Iced tea
Trivia
Famfams might go out to eat dinner.
They might have a fancy dinner for special Occasions.
Some Famfams bring their Pookies the Pizza Parlor!
Normally younger pookies (who may not be able to eat solid food yet) may have mush mush or other types of baby food similar to real life.
Ad blocker interference detected!
Wikia is a free-to-use site that makes money from advertising. We have a modified experience for viewers using ad blockers

Wikia is not accessible if you've made further modifications. Remove the custom ad blocker rule(s) and the page will load as expected.