The Dude Stuffie is a stuffed animal that came from the Descendants Party in September of 2015. It is very common on pookies. It is mostly seen on newbies and non-members, since you don't need a membership to access this item.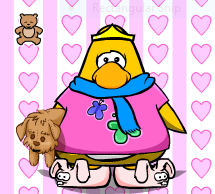 Trivia
Dude Stuffie

The Dude Stuffie.

What animal is this toy supposed to be?

A dog.

Common rating on pookies.

3/10.

Cost?

Free.

Still available?

No.

Members only?

No.

Unlockable?

No.

Seen on pets?

Yes, but this stuffed animal is controversial with uppies, since they are dogs and they are holding a dog-shaped stuffed animal.

Seen on other fam fam members?

Very rarely, but is seen often on young middles.
See also
Ad blocker interference detected!
Wikia is a free-to-use site that makes money from advertising. We have a modified experience for viewers using ad blockers

Wikia is not accessible if you've made further modifications. Remove the custom ad blocker rule(s) and the page will load as expected.