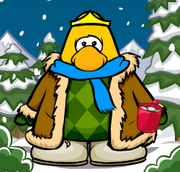 Fam fams usually go on family vacations. It is a nice and relaxing way to have fun.
Getting Ready
First, let the mumu tell you where you're going. If the pookie is too little to pack their suitcase, they will normally ask the mumu or a biggy to help.
The next morning, pookies may have to get up earlier than usual. Some will cry when they are woken up, such as the young ones. Others will just yawn cutely and stretch. Sometimes, they will take a bath before they get dressed. Some penguins will use the techbook or the medic bag for suitcases. Other times they will wear a hiking backpack, expedition backpack, or the pink, blue, or red backpacks.
What to Wear
What a pookie would wear depends on what kind of vacation they go on.  If they go to the beach, they can wear any head item except earmuffs and any neck item except scarves.  For clothes, they can wear the yellow summertime outfit, any clothes from the August 2013 catalog, a hawaiian shirt, or any kind of swimwear.  For a cold vacation pookies will normally wear any head items especially earmuffs and scarves, jackets and coats, boots, and mittens.
Going on a Vacation
Penguins will either take a car if they have one or a plane if one of their iggies is one to get to their chosen vacation spot.  A lot of times pookies will be bored on the trip. The parents will bring along books, coloring books, toys, and sometimes a movie to watch.
Once they reach where they were going they will sometimes stay at another family member's igloo as a hotel or the Puffle Hotel.
Places To Go On Vacation
Here are some popular vacation spots.
Tropical Vacation Spots
At a tropical vacation penguins can swim, surf, build sandcastles, etc.
Cove
Beach
Hidden Lake
The Pool
Water Park (somebody may have it in their igloo)
Hotels
To go to a hotel, fam fams go to:
An igloo
Puffle Hotel
Ski Lodge
Winter Vacation Spots
When penguins go on winter vacations, they will sled, ski, snowball fight, etc.
Ski Hill
Snow Forts
Ski Village
Ice Rink
Camping and Hiking
These are the spots fam fams go to for camping and hiking:
Special
If there is a party going on, a few special places may be suitable for vacations.  The Fair, a good theme park, any summer or winter themed party, or basically any party going on at the time that you think will be great for a vacation.
Shopping Mall
Pookies may have fun at the shopping mall. Few penguins make their igloos as them, so they could go on:
The Puffle Berry Mall
Someone's mall igloo