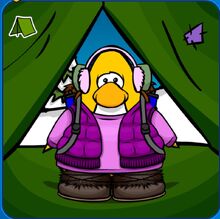 Sometimes, for family vacations, pookies would like to go hiking. Be careful though. Some young pookies may get tired and get upset. Bring a pookie carrier if your pookie may get tired.
Hiking
Pookies basically climb mountains with their family for winter and camp there usually with winter clothes and things like that. Popular places for hiking would be the Forest and Ski Hill.
Clothes
When pookies go hiking, they usually wear the following:
Head
Either blue, pink or seafoam earmuffs
any color toque
Neck
Body
Any sort of hiking or camping clothes, like a jacket
Feet
Trivia
Pookies usually go swimming instead of hiking.
Hiking is quite similar to camping.
Families usually go hiking more in the winter because winter is usually too cold for swimming.  
Ad blocker interference detected!
Wikia is a free-to-use site that makes money from advertising. We have a modified experience for viewers using ad blockers

Wikia is not accessible if you've made further modifications. Remove the custom ad blocker rule(s) and the page will load as expected.