Holidays
are celebrations that pookies love. Here are the ones that they celebrate, along with how they celebrate them.

Christmas
Main article: Christmas
Pookies love Christmas. To them, it means presents and Santa. Sometimes, the mumu or duh duh will even dress up as Santa so that the pookie/pookies can "meet him". There are usually presents for everyone in the family, including the pets. Sometimes the mumu or duh duh makes them write Christmas lists.
Here are some common presents for each family member (since, on Club Penguin, the presents don't really change much):
Mumu
Duh Duh
Pookie (girl)
Pookie (boy)
BiggyWista
BiggyBroder
Bunny
Uppie
Kitty

Jewelry or Clothes

Tools or Agent Sunglasses

Disney Princess doll or My little pony toy

Mario brothers toy or Super hero

a car
New Video game or if available, a new Phone
carrot
collar

Kitty treats (flavors include Fish, Chicken, or Pork)

Hand-made Card from Pookie
Hand-made card from Pookie

Anything

Elmo or Teddy Town related

Anything

Elmo or Teddy Town related

Bath or massage items, Gift cards or if available, a New Phone
a car
Brush
Chew toy or Leash

Mouse toy or Jingle bell Ball.

Halloween
Main Article: Halloween
Halloween is one of the most popular holidays for pookies. Here, pookies dress up and go to igloos on the map to trick or treat. Some common costumes for girls are are Unicorns, princesses, Princess peach, fairies, Butterflies, bees, Kitties and uppies . Common costumes for boys are Mario bros., Marvel hero costumes, agents, Spiders, and Skeletons. Halloween is usually found during Club Penguin's annual Halloween party, because they have new costumes in the catalogs, and the snow forts is usually decorated as a neighborhood where famfams can go trick-or-treating.
| Most popular Halloween costumes in 2014 for pookies | | | |
| --- | --- | --- | --- |
| Boys | Marvel Hero | 2. Mario | 3.Spider |
| Girls | Princess | 2. Fairy | 3.Unicorn |
.
Easter
Easter is not a very common holiday, but it has happened. Usually, the mumu or duhduh will dress up as the Easter bunny. In the morning, the pookies may go on an easter egg hunt. Here are some prizes pookies may find in their eggs.
| | | | |
| --- | --- | --- | --- |
| Wista | Broder | Girl Pookie | Boy Pookie |
| Gift cards | New video Game | Doll | Action figure |
| Candy | Candy | Candy | Candy |
| Accessories | Sports stuff | Snack foods | Snack foods |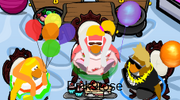 Pookie's Birthday
Main Article: Birthday
Birthdays are one of the most common holidays for famfams, and pookies love it. Sometimes, a birthday will be a suprise to a pookie, but other times, the mumu or duhduh will tell them the night before that the next day is their birthday. Sometimes, and mumu or duhduh might prepare a special breakfast for the pookie. For dinner, the pookie and his or her family will usually go out to eat at the pizza parlor, or another restaurant (the owner of the iggy may have built a restaurant). At the end of the day, the pookie will open their presents (see 'Christmas' for a list of popular gift ideas) and eat birthday cake. A pookie might have a birthday party as well. These are not very common, but they have been seen before. Usually, the mumu or duhduh will go to the Pet Shop and advertise for a birthday party at their igloo. They usually get 4-5 pookies that come. However, the pookies may not want to leave at the end of the party, so be warned.
Trivia
Sometimes Pookies will dress up in something Christmas- Themed for Christmas
Some biggies will help the pookie with their Halloween costumes
During Easter, Pookies might wear bunny ears and bunny slippers
On their birthday, The pookie may wear any Party hat and a bunch of balloons!
Also on their birthday they may change to look older or become a biggy/middle wista.