The Kitty Cat Eyes are a face item in Club Penguin. Most pookies wear this item to look like eyelashes, but some will wear a different pair of eyelashes. It is also very common on kitties.
Kitty Cat Eyes

The Kitty Cat Eyes in the inventory.

Common on pookie's rating?

3/10

Variations?

No

Category

Face Item

Member item?

Yes

Unlockable?

No
Trivia
They were one of the first mascara face items out.
It is common on newbie pookies.
In-game, they look exactly alike to the Diva Glam Eyes, the Starlet Eyes, and the Wide Awake Eyes, even though they look different on the player card.
The icon in the player's inventory is a shiny black circle, possibly representing a mascara jar.
On the Club Penguin App, all of the mascara items look different on the player in-game.
Gallery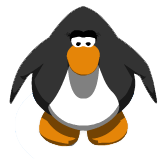 Ad blocker interference detected!
Wikia is a free-to-use site that makes money from advertising. We have a modified experience for viewers using ad blockers

Wikia is not accessible if you've made further modifications. Remove the custom ad blocker rule(s) and the page will load as expected.