Pookies
don't have
lunch
very often. But when they do they might have soup, sandwiches or mac and cheese. A lot of pookies don't have lunch because they are out doing various activities with their
fam fam
instead of sitting around and eating. If a family is bored and/or not doing anything, they may have lunch.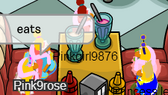 Some things a pookie might eat for lunch: 
Cheese sandwiches 
Peanut butter and jelly sandwiches 
Ham sandwiches 
Chicken sandwiches 
Tuna sandwiches 
Elmo sandwiches 
Elmo soup 
Tomato soup 
Veggie soup 
Slice of pizza 
Mac and cheese (usually character themed) 
Fruit salad  
Spaghetti (usually character themed)  
Happy meal  
Garlic bread  
Egg sandwiches  
Bagels  
Yogurt  
Cheese quesadilla  
Chicken quesadilla  
Elmo quesadilla   
Elmo chicken nuggets  
At stool or Pre K pookies might be given school lunches or they may bring a packed lunch to eat. It's quite common to experience lunch-time while in Pre K. 
Ad blocker interference detected!
Wikia is a free-to-use site that makes money from advertising. We have a modified experience for viewers using ad blockers

Wikia is not accessible if you've made further modifications. Remove the custom ad blocker rule(s) and the page will load as expected.