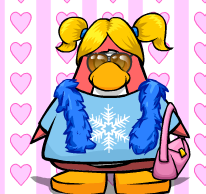 Mumus wear many outfits. Some are unique things. Some may be used to look rich. However, this page can list most items mumus combine and wear as outfits.
Hair
The Flitter Flutter (uncommon)
The Mysterious (rarely)
The Summer Sidetied
The McKenzie (common on non-members)
The Funster (common on non-members)
The Tough Enough (rarely)
The Glamorous
The Summer Sidetied (rarely)
The Casual Classic (rarely)
The Sleek Chic (common on non-members)
Face
Neck
Any of the boa's
White Scarf
Holiday Scarf
Nothing (rarely)
Body
Dazzle Dress
Detective's Coat
Night Sky Prom Dress (very common)
Blue Dazzle Dress
Shimmer Diva Dress
Lavender Gown
Beach Dress
Pretty as a Petal Dress
Among The Stars Mint Dress (rarely)
Firefighter Jacket
Midnight Glamor Dress
Bikini (when swimming)
Hand
Gold Bracelets
Pink Purse
Lime Green Purse
Nothing
Denim Purse
Big Lollipop
Fluffy Stuffie
MP3Ks
Feet
Ballet Shoes
Sneakers
Sandals
Bunny Slippers (uncommon)
Nothing
Stardust Slippers
Blue Stardust Slippers
Pink Bow Dress Shoes
Sunset Dress Shoes
Fuzz Boots
Ad blocker interference detected!
Wikia is a free-to-use site that makes money from advertising. We have a modified experience for viewers using ad blockers

Wikia is not accessible if you've made further modifications. Remove the custom ad blocker rule(s) and the page will load as expected.