This page is incomplete!
This page treats the reader as if they are having a conversation with the writer, or uses inappropriate grammar, such as exclamation marks and question marks. Please fix this page as soon as possible to be more professional. Once you have fixed it, please remove this template.

Do NOT mark as a candidate for deletion!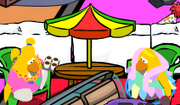 A lot of pookies love to play outside! On this article, you will learn what pookies wear when they go outside, and what they do when they are outside!
Outfits pookies wear in cold weather
Head:
Any hat/Santa hat
Blue Crystal Puffle Earmuffs
Face:
Nothing 
Clown nose (Extremely rare) 
Body:
Any jacket
Any shirt
Any long sleeved dress
Any coat
Any hoodie
Any jumper
Any vest
Any winter like body items
Hands:
Neck:
Feet:
Bunny Slippers (any color)
Boots of any kind
Ballet Slippers
Ice Skates
What pookies wear in warm weather
Head:
Face:
Swim Mask (When going swimming)
Nothing
Bubblegum (rarely)
Neck:
Body:
Swimsuit (When swimming)
T-shirt
Any dress
Hand:
Teddy Bear
Stuffed Bunny
Beach Ball
Turtle Toy
Rockhopper Plushie
Ice Cream
Paddle Ball
Cotton Candy (any color)
Water Bottle
Feet:
Sandals
Flip Flops
Ballet Slippers
Nothing
Things To Do in Warm Weather
You can do a lot of fun things with pookies in warm weather! Such as,
Sports
Capture the flag
Tea Party
Hide and go seek
Tag
Having a BBQ party with friends
Picking flowers (or planting them)
Swimming
Going to the beach
Playing in a tree house (if there is one in the Family Igloo)
Swinging
Catching butterflies
Play with puffles
Take a walk
Camping
Make a lemonade stand
Play with toys or pets
Things to do in cold weather
Build a snowman
Skiing
Snowboarding
Sledding
Ice skate
Sell hot cocoa at a stand
Have a snowball fight
Make snow angels
Make a snow fort
If there is rain, your pookie can play in the rain if they like.
Related Pages: