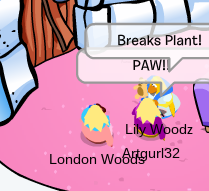 PAW is a term that MELDs and other penguins sometimes use. It stands for "Parents Are Watching", which indicates to everyone to start talking about better things and being nice.
Usage
If a penguin or a group of penguins are being rude, inappropriate, or just plain mean and their parent in real life comes up behind them, they use the saying PAW as a secret message for other penguins to start acting nice. Then, when the parent leaves, they say "all clear" or something similar, so that the penguins can start being rude again.
Others Who Use PAW
PAW isn't just for pookies; many preps use it as well. Some penguins who hang around the stadium also use it. PAW started in Club Penguin early 2013, when a lot of penguins started getting unusually mean and inappropriate.
Ad blocker interference detected!
Wikia is a free-to-use site that makes money from advertising. We have a modified experience for viewers using ad blockers

Wikia is not accessible if you've made further modifications. Remove the custom ad blocker rule(s) and the page will load as expected.