Playtime is when a pookie gets to play. Playtime will normally happen during Pre-School, or after a pookie takes a nap. Pookies get to have fun and play with their friends.
Things To Do During Playtime At Pre-School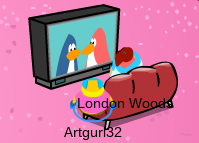 At Pre-School you might not be able to do all the things you do at home, but it can still be loads of fun!
Play dress up
Play with teddy bears, bunny toys, trains, turtle toys, or any other toys
Tea party
Watch television, wether it's a program or movie
Play with friends or neighbors
Read a story
Arts and crafts
Play pretend
Play on the playground
Watch a movie
Work on a puzzle
Play "Pookie Contest"
Play on the computer
Sing or dance
Video Games
Main article: Video Games
Video Games are a common pastime. Here are some video games pookies may play on Club Penguin and CPPSes:
The Sims
Super Mario Bros
Legend Of Zelda
Super Smash Bros
Club Human (possibly)
Minecraft
Early Childhood Educational Games (Elmo games, Teddy Town games etc)
Terraria
Splatoon (rare)
Undertale (usually on CPPSes)
Pokemon