Pookie
Talk

15
56pages on
this wiki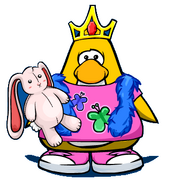 A
pookie
is a baby on Club Penguin. They are usually seen at the pet shop saying things like, "Pwease adopt me" and get a crowd of penguins start saying, "How cute?". Many pookies wear white belts so they are VERY easy to spot and they say things like "Smiles so bright Mr. Sun Sun Hides in Shame!" and every word they say has a capital letter eg. "Wes Pwease!". They love attention. Some pookies are evil. Some pookies are nice. Beware when you decide to adopt a pookie, they might be evil. The place they are most seen in is servers with 5 bars in the room of the pet shop, especially Abominable, Alaska, Zipline, and Alpine. Also beware if you make a pookie protest at pet shop. The pookies can report you and it is very likely for you to get banned and the ban time is 72 hours. Most pookies are yellow and sometimes if there is a yellow pookie destroyer that looks like a pookie, do not mistake them for a pookie or they might get mad. Pookies are VERY rarely on 3 or less bar areas. Some pookies were found on Sleet although this was very unexpected.. Rarely a Male pookie is picked. At the Halloween party 2012 Members Would become ghosts and scare pookies away.
Trivia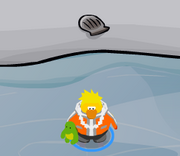 Pookies often talk in a baby-ish language (Changing "R"s for "W"s ect.)
They often wear Pre-school clothes. You can see a list of what Pookies wear, Here.
One way Pookies get attention is by clinging to the first person they see, so they can get picked.
Sometimes (it depends on the personality) Pookies ignore and report penguins that dont adopt them or those who are protesting theyll report and ignore.
Some pookies will refuse to go with any mumu. They call themselves "divas" and are very picky as to what their mumus look like. They usually prefer mumus wearing a boa and the Sidetied.