Here is a list and guide for some common pookie meals. If your pookie is newborn, they will only drink milk. If your pookie is a baby, they will only eat milk or mush mush, a baby food..
Breakfast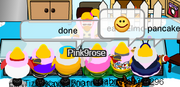 Breakfast is the first meal of the day when a pookie wakes up. Some things they may normally eat are:
Toast
Elmo shaped pancakes
Teddy Town shaped waffles
Eggs and bacon
Donuts
Any character themed waffles/pancakes
Elmo Cereal
Teddy town cereal
Sugar cereal
Hello kitty/character cereal
Juice
Water
Milk
Fruit
Fruit Loops
Lunch
It is not so common that pookies will have lunch. But when they do they might have soup, sandwiches or mac and cheese. A lot of pookies don't have lunch because they are out doing various activities with their family instead of sitting around and eating. If a family is bored/not doing anything they may have lunch. Sometimes a pookie will have lunch during or after Pre K or stool (school) 
Some things a pookie might eat for lunch: 
Sandwiches (cheese, peanut butter and jelly, tuna and elmo sandwiches are more common than others) 
Soup (Possibly Tomato,Veggie or Elmo) Sometimes served with a white roll 
Fruit salad  
Spaghetti (character themed mostly)  
Any character themed mac and cheese  
Happy meal  
Garlic bread  
Pizza slice  
At stool or Pre K they may be given school lunches or they may bring a packed lunch to eat. Its quite common to experience lunch-time while your in Pre K 
Snacks
Pookies love to have snacks! They love cookies, animal crackers, fruit, normal crackers and cheese, and candy. Sometimes they will go to the coffee shop to have a snack; they normally get cookies or juice or smoothies while older Fam Fam members get coffee. Or they will go to the cove (since they added the smoothie stand) or the smoothie stand in the coffee shop. Sometimes the Mumu or Duh Duh may make healthy snacks instead, but most pookies don't want healthy snacks.
Some Snacks to serve are:
Animal/elmo/teddy town/character crackers.
Fruit or a fruit salad (maybe with a topping).
Cookies (many flavors, chocolate, elmo, white chocolate, and rainbow).
Assorted candies.
Smoothies or other drinks.
Frozen/fruit/plain yogurt.
Doritos
Chips
Cheetos
Crunchy dippers (Assorted crunchy items with dips, can be healthy)
Dinner

Dinner, or din din is the meal that is eaten in the evening for pookies. There are usually a few courses during dinner like the appetizer/Starter, the main course, the side dishes, and dessert.
Appetizer
Salad
Fruit Salad
Soup
Cheese Fondue
Shrimp/Crab Cocktail
Nachos
Cheesy Rolls
Crunchy Dippers (Crunchy items like Pieces of Baguette and Vegetables served with a few dips)
Mozzarella Sticks
Chips and salsa/guacamole
Sushi
Cheese Bread with Dipping sauce
Garlic Knots
Bread and Butter
Main Course
Pasta with cheese
Mac and cheese
Lasagna
Ravioli
Pasta with tomato sauce
Spaghetti with meatballs
Cheese pizza
Pepperoni pizza
Vegetable pizza
Chicken pizza
Elmo pizza
Turkey
Chicken
Beef
Cornish game hen
Corn beef
Ham
Pork ribs
Beef ribs
Lamb chops
Lamb
Gyros
Pot roast
Chicken pot pie
Shepherds Pie
Tacos
Burritos
Tamales
Chimichangas
Enchiladas
Shrimp
Cracked crab
Cod
Salmon
Dover sole
Fish and chips
Burger
Cheese burger
Veggie burger
Elmo burger
Hot Dog
Sides
Salad
Fruit
Yogurt
Veggies
Fruit salad
Corn on the cob
Corn off the cob
French Fries
Mashed Potatoes
Mozzarella Sticks
French fries
Cheese
Bread and butter
Cheese quesadilla
Chicken quesadilla
Elmo quesadilla
Soup (character themed mostly)
Small serving of pasta.
Baguette
Dips (such as tomato ketchup)
Refusing Food
Sometimes, an pookie pushes away food, Example: An mumu says `puts Elmo Pizza on table´, then an pookie says `pushes away´ or `hates Elmo!´, because the pookie is afraid of Elmo. then the mumu serves food of another type/theme.
Dessert
Dessert is a sweet treat most pookies eat after Dinner. The usual things pookies may have for dessert are:
Cookies
Cupcakes
Cake (Vanilla Cake/Chocolate Cake/Ice Cream Cake/Cookie Cake)
Brownies
Chocolate
Candy
Pudding Cup
Ice Cream
Donuts
Pie
Cheesecake
Trifle
Jelly (with toppings)
Sometimes, a pookie will get hyper or have a tummy ache after eating dessert or vomit. It might be due to allergies to something in the food (nuts, peanuts, etc)