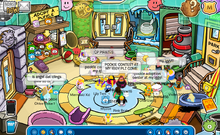 There are lots of servers in Club Penguin, but there are only a few that pookies tend to go on. Pookies are most likely to be found on servers with 4-5 bars.
Pookie Servers
These are servers that pookies usually will go on.
Blizzard
Ice Berg
Abominable
How To Find One
You can tell a server is a pookie server if it is highly populated, with around 4 to 5 bars. The number one way to tell if a server is a pookie server is to go to the Pet Shop. If there are mumus and pookies, then clearly, it is a pookie server. You might find pookies wandering around other places on the island that aren't the Pet Shop.
Trivia
Servers with safe chat are almost never pookie servers.
Abominable was previously the most popular, until pookies began moving to Blizzard.
Pookies usually go on a server that they know will usually have a lot of pookies on it.
On the mobile version of Club Penguin, all or most pookies were adopted in the Coffee Shop.
The server Blizzard was the most popular pookie server.