The Puffleberry Mall is a shopping center in Club Penguin next to the Puffle Hotel. It replaced The Stage.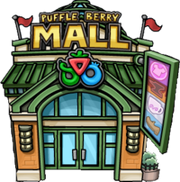 Role In A Pookie's Life
Going shopping is one of the most common activities for a pookie to do (swimming is the most common). Mumus and Duh Duhs may take their pookie(s) to the Mall when the pookie(s) are/is bored. It is rare that a pookie will hate the mall.
Normally pookies usually simply like the Mall. The mumu may tell the pookie that they can pick out one outfit to buy. Pookies sometimes love trying on new outfits, and when they pick an outfit to buy, they will probably wear it the rest of the day. After shopping, the mumu may take the pookie to the food court in the Mall for lunch. Sometimes biggy wistas and even middles will take the pookie(s) to the Puffleberry Mall.
Role In A Middle Or Biggy's Life
The average prep loves going to the Mall. They mainly go there to shop for clothes, prom dresses, or just to hang out with their friends. Other biggies may not like it so much though. Some middles or biggies hate the Mall so much, they will act sick to avoid going. Some mumus may force their biggies or middles to go to the mall, even if the biggy or middle feels like they have enough clothes. Since a lot of preps go to the mall, there is a high chance that the biggy or middle will meet a cute boy there.
Things penguins may buy at the mall
These are commonly things pookies, middles, biggies, mumus and duh duhs buy at the mall.
Trivia
Rarely, boy middles or biggies will be at the Mall. However, seeing a male prep at the Mall is pretty common.
It replaced The Stage in the year 2015.
Ad blocker interference detected!
Wikia is a free-to-use site that makes money from advertising. We have a modified experience for viewers using ad blockers

Wikia is not accessible if you've made further modifications. Remove the custom ad blocker rule(s) and the page will load as expected.