An sandwich is an type of lunch that can be eaten after breakfast.
Ingredients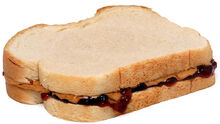 Normal
Bread (can be french bread or baguette)
Butter (if you like)
Veggie mix
Bacon (if you like)
Peanut
Bread (Fluffy´s)
Peanut Butter
Jelly
Special
Bread
Bacon
Lettuce
Tomato
Pre- special
Bread
Bacon
Fried egg
Salmon
Allergies
Contains wheat, gluten.
Ad blocker interference detected!
Wikia is a free-to-use site that makes money from advertising. We have a modified experience for viewers using ad blockers

Wikia is not accessible if you've made further modifications. Remove the custom ad blocker rule(s) and the page will load as expected.