Scarf

An uncommon scarf.

Common rarity on pookies.

7/10.

Range of colors/patterns.

There are many different ranges (see list).

Member item?

Some scarves are for non-members, but most are for members.
Scarves are neck items in Club Penguin that are often used by pookies, uppies, and kitties. Scarves are seen more often in the winter, but they can be found on pookies all year long.
Most pookies wear scarves because they do not own a boa. Mumus will sometimes wear this item as well, again because they do not have a boa.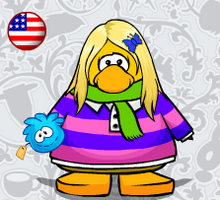 List Of Scarves:
Autumn Scarf
Big White Scarf
Black Scarf (only available on Oasis.ps)
Blue Cotton Scarf
Blue Designer Scarf
Blue Scarf
Blue Striped Scarf
Bumblebee Scarf
Candycane Scarf
Checkered Scarf
Chestnut Checker Scarf
Christmas Scarf
Cornflower Scarf
Cozy Orange Scarf
Green Cotton Scarf
Green Plaid Scarf
Green Scarf
Green Trendy Scarf
Green Zebra Scarf
Green and Blue Scarf
Halloween Scarf
Heather Grey Scarf
Knitted Scarf
Lavender Knit Scarf
Leopard Print Scarf
Magenta Scarf
Pink Designer Scarf
Pink Scarf
Pink Zebra Scarf
Pom Pom Scarf
Purple Rugby Scarf
Red Cotton Scarf
Seeing Spots Scarf
Smitten Scarf
Sunset Scarves
Tri-color Scarf
Yellow Designer Scarf
Yellow Scarf
Ad blocker interference detected!
Wikia is a free-to-use site that makes money from advertising. We have a modified experience for viewers using ad blockers

Wikia is not accessible if you've made further modifications. Remove the custom ad blocker rule(s) and the page will load as expected.