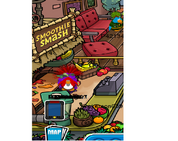 The Smoothie Stand is a fun alternative to the Pizza Parlor and the Coffee Shop. It features fresh smoothies, made with whole fruit, that are healthy and tasty for pookies. It is also home to the game Smoothie Smash.
Menu
The menu for the Smoothie Stand is made from freshly grown whole fruit and does not use artificial flavors or preservatives.  Pookies with fruit allergies or dairy allergies should not drink any of the smoothies.
Smoothie Stand Menu

| Smoothies | Ingredients |
| --- | --- |
| Berry Blitz | Strawberries, blueberries, raspberries, blackberries. |
| The Hawaiian | Bananas, pineapples, coconut shreddings, and a little umbrella. |
| Citrus Craze | Lemons, oranges, mangoes, and tangarines. |
| Fruit Frenzy | Apples, bananas, strawberries, pineapples, grapes, and peaches. |
| Tropicali | Kiwis, mangoes, tangarines, guava, bananas, and limes. |
| Plum Pleasure | Plums, blueberries, blackberries, mangoes, and kiwis. |
| Pomegranate Punch | Pomegranates, apples, bananas, and mangoes. |
| Rocking Raspberry | Raspberries, raspberry juice, raspberry shavings, and a few mashed raspberries. |
| Soothing Strawberry | Strawberries, strawberry sorbet, and shredded strawberries. |
| Banana Sundae | Ice cream with chopped bananas and cherries. |
| Fruit Rainbow | Strawberries, Oranges, Bananas, Limes, Green Apples, Blueberries, Plums, Raspberries and 2 pieces of Red Apple |
For pookies with dairy allergies, there are also a few all fruit smoothies!
Smoothie Shack All Fruit Menu

| Smoothies | Ingredients |
| --- | --- |
| Strawberry Surfers | Strawberries, blueberries, raspberries, bannanas, mangos, pineapple juice. |
| Mango Tango | Mango, peach, raspberries, bannanas, mango juice |
| Bannana Berry | Bannanas, strawberries, blueberries, apples, pomagranate juice |
| Fruit Fanatic | Blueberries, mangos, guava, starfruit, plantains, peach, plum, apples, raspberies, blackberries, cranberry juice. |
Pros
If the workers are kind enough, they might give you a free smoothie.
It's easy to order and there are comfy seats.
It has a to-go bar.
There is a game called Smoothie Smash that pookies may play

However, their mumu or duh duh can wait

If not, they will have to leave their pookie
Cons
There might be pookie haters working there.
They might say pookies are not allowed to order a smoothie or sit at the counter.