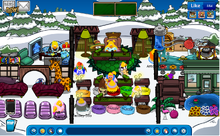 Stool
 (School in human language) is what younger 
pookies
 call Elementary School/Primary School. It is usually held at the
Bookroom
, and sometimes at the
Puffle Lodge
. It can be also found in the
mumu
/
duh duh's
or another penguin's
igloo
. However, now that there is a University, school is sometimes held there. That is not very common though, because the University serves as a
Middle School
,
High School
, and
College
/University. It is also filled with
preps
,
hoodies
, and
pookie haters
, whom may be dangerous to your pookie(s).
Trivia
It is a step up from Pre-School.
When pookies graduate from Pre-School and go here, they usually have hair already.
After pookies graduate Stool, they will go to Middle School, and become a middle.
Sometimes, there will be show and tell. Show and tell is when the pookie shows off one of their possessions (such as a Teddy Bear, a puffle, or maybe even a pet) and talk about it to the other pookies. Pets are usually not allowed because another pookie may have allergies.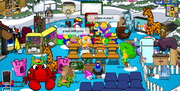 At stool the classes are usually math, reading, social studies, science, writing, lunch, recess, and sometimes; a special period like show and tell. A pookie may also have playtime as a special period, depending on their age.
Recess is sometimes held at The Puffle Park. Pookies may choose to stay inside, however.
Some pookies have to wear school uniforms.
Sometimes, one of the pookies' mumu/duh duh will be the teacher. This is very common. Otherwise, a random teacher might be working there. If not, the pookies will go without a teacher and do independent work.
Ad blocker interference detected!
Wikia is a free-to-use site that makes money from advertising. We have a modified experience for viewers using ad blockers

Wikia is not accessible if you've made further modifications. Remove the custom ad blocker rule(s) and the page will load as expected.