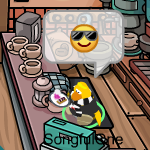 The
Coffee Shop
is a place in
Club Penguin
. It is located in the Town.
What roles does it have in a pookie's life?
The Coffee Shop has an effect on pookies. They may have Pre K or Stool (school) in the Book Room above the Coffee Shop, due to the University usually being filled with biggies, middles, and preps. Sometimes a pookie's parent or older sibling will have a job at the Coffee Shop. Pookies will sometimes come here with their fam fams to get a smoothie (from the smoothie stand), breakfast, hot cocoa, or pastries while the parents have coffee.
Roles in the Club Penguin App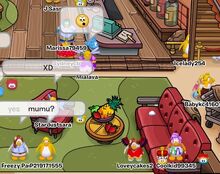 In the
Club Penguin App
, the Coffee Shop has different roles. Some unadopted pookies will go there to be adopted. However, in the CP App, the
Pet Shop
is still the main place to adopt pookies, but the Coffee Shop is common as well. Shy pookies may hide behind a crate, but most pookies sit on the couches or the floor, drinking smoothies.
Trivia