The Flutterby

The Flutterby

Rarity On Pookies

3/10

Range of Colors/Patterns?

Yes (The Befluttered and the Flitter Flutter)

Available?

Yes

Member Item?

Yes
The Flutterby is a wig sometimes worn by pookies but slightly more common on Biggies and Mumus. Middles often wear this too. It is a brunette mid-length CP wig with a little pink bow to the side.
Trivia
It is rarely worn by pookies.
Biggies, mumus and middles are most common to be seen wearing this.
It was first released on January 4th, 2008 in the former Club Penguin catalog "Big Wigs".
It was re-released in 2009, 2011, 2013, and 2015.
It was featured on the Beach postcard.
It is quite popular amongst female penguins.
Unlike The Befluttered and The Flitter Flutter this wig has a pink bow, instead of a butterfly accessory.
The price was lowered from 600 coins to 300 coins in 2011.
Similar items are The Befluttered and The Flitter Flutter.
Out of the three, the Befluttered is most common, then the Flutterby, then the Flitter Flutter.
Gallery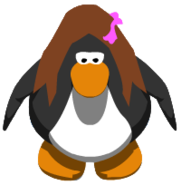 Ad blocker interference detected!
Wikia is a free-to-use site that makes money from advertising. We have a modified experience for viewers using ad blockers

Wikia is not accessible if you've made further modifications. Remove the custom ad blocker rule(s) and the page will load as expected.