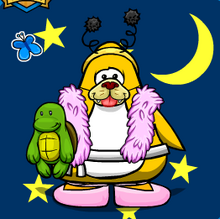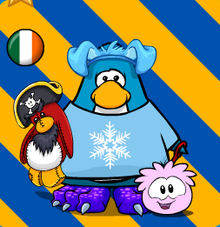 These are some clothes an uppie might wear.
Head items
Face items
Neck items
Any Feathered Boa (very common)
Pink or blue rare boa

Any scarf
Star Necklace
Seaform Necklace (rare)
Any Lei (uncommon)
Nothing (uncommon)
Body items
Any ruffled dress (very common)
Gold princess dress
Any suit with a babyish design (e.g Puffle raincoat)
T-shirts
Turtlenecks
Letterman jackets
Tracksuits
Firefighter jacket
Puffle pullovers
Gem related dress (e.g Emerald dress)
Grumpunzel's dress
Cheer-leading dresses
Cheer-leading sweaters
Cosmic Dress
Hand items
Feet items
Dragon Feet
Sneakers
Ballet slippers
Anything to cover flippers
Colors
Aqua (rarely)
Brown (uncommon)
Yellow

Trivia
Uppies commonly wear the guardian dog mask as a face item
They wear very similar things as pookies
Uppie wigs are mostly used on male uppies, see above.
Ad blocker interference detected!
Wikia is a free-to-use site that makes money from advertising. We have a modified experience for viewers using ad blockers

Wikia is not accessible if you've made further modifications. Remove the custom ad blocker rule(s) and the page will load as expected.