Video Games are a common pastime for everybody, adored by any pookie that can get their flippers on them.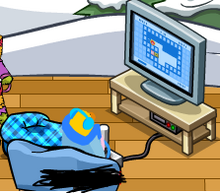 | Rating | Age Group | Description | Examples |
| --- | --- | --- | --- |
| Early Childhood | 3+ | Games that can contain educational nature, TV shows that pookies love, or however, These games aren't as crude or violent as the others. | Elmo, Teddy Town, Barney, etc. |
| Everyone | 6+ | Games that may have mild cartoon violence and rude humor. | Super Mario Bros,, PS Vita Pets, etc. |
| Everyone 10+ | 10+ | One of the most wanted games that teens/adults need to destroy | No examples? add your own! |
| Teen | 13+ | These games are only made for teen pookies, This is not designed for children/pookies. | No examples? add your own! |
| Mature 17+ | 17+ | No description? add your own! | No examples? add your own1 |
| Adults Only | 22+ | No description? add your own! | No examples? add your own! |
| Rating Pending | All ages | For games that have been announced, and they stay that way once cancelled. | Club Penguin Beta, Club Penguin Beta 2 |
List of games pookies may play
The age group is usually 3-10
Teddy Town
Bunny Barn
Elmo
Super Mario
Spongebob
Wii Sports
Minecraft
Splatoon
Trivia
The most popular games are more likely to be games of popular shows such as Bunny Barn, Teddy Town, and Elmo. Another popular game in the Club Penguin universe is the Super Mario franchaise.
However, other games can be seen on CPPS.me, Oasis.ps, and other CPPSes.
Considering that most igloos don't have gaming consoles, video games are quite uncommon.
Ad blocker interference detected!
Wikia is a free-to-use site that makes money from advertising. We have a modified experience for viewers using ad blockers

Wikia is not accessible if you've made further modifications. Remove the custom ad blocker rule(s) and the page will load as expected.